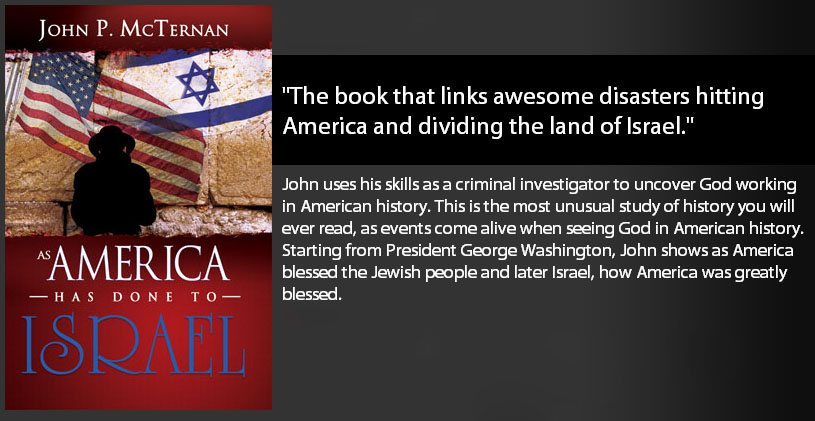 The book shows what was happening spiritually behind incredible events in American and world history such as:
•The largest Nazis meeting outside of Germany took place in America the location was soon struck by one of the greatest disasters in US history.
•President Franklin Roosevelt died at the very time he was blocking the establishment of a Jewish state in Palestine.
•God raised up the United States as a world power at the very time America took in millions of Russian Jews.
•The founder of the modern Zionist movement was not Theodor Herzl, but William Blackstone, an American evangelist.
•As America became a great power, God directly used the nation to help fulfill His prophetic word with the rebirth of Israel. Without America's power, modern Israel would not have been reborn.
John then reveals the direct correlation between America interfering with God's prophetic plan for Israel and incredible disasters hitting America. Starting in 1991 and continuing until today, as America touches the land of Israel and Jerusalem incredible disasters hit the US including:
•The Perfect Storm
•Hurricane Andrew
•The Northridge Earthquake
•Hurricane Katrina
•The attack on 9/11
•The Stock Market crash of 2008
•The Joplin Tornado outbreak
You will be amazed to see the correlation between the greatest earthquake in modern history and events in Israel!
Video Preview of Book - Part 1:

The book explores Bible prophecy about Israel and shows the awesome wars starting in the Middle East including the creation of an Islamic caliphate. This results in all-out war between Israel and the surrounding Arab nations. This war is now forming as you read current events. Based on Bible prophecy, you can know what is about to happen in the Middle East and where events are leading. This book ties it all together.
Video Preview of Book - Part 2:

After finishing As America Has Done to Israel, you will never see history or current events the same. You will see God working to fulfill His prophetic plan for Israel and the Second Coming of Jesus Christ. You will know how to personally avoid America's fatal mistake and line up with God's prophetic word and be blessed and protected.
If someone is looking for the proof of God, this is the book to read.
Purchase Book Now!